Federal University of Agriculture, Abeokuta (FUNAAB) students took up the responsibility of building an ultra modern car park at the gate of the campus worth N5m. Having completed the magnificent and expansive building, they decided to name it after the president of the country Muhammadu Buhari.
The project was recently commissioned during the set aside activities held in commemoration of the university's Founder's Day and 30th anniversary. The commissioning was done by commissioner Da Silva.
It was gathered that the completion of the car park was ensured by the recently dissolved FUNAAB Students' Union Government (SUG) executive which was led by Ayobami Popoola.
The SUG president Ayobami affirmed that the car park would be known as President Muhammadu Buhari Car Park/Bus Stop or PMB Square for short. Even more, two shed stands were named after the vice chancellor of the university, Kolawole Salako, and a former student leader named Oluwafisayomi Adelaja.
Expressing his happiness over the completion of the project, Popoola said it was a dream come true. He added that the car park will provide a viable solution to one of the problems affecting the institution.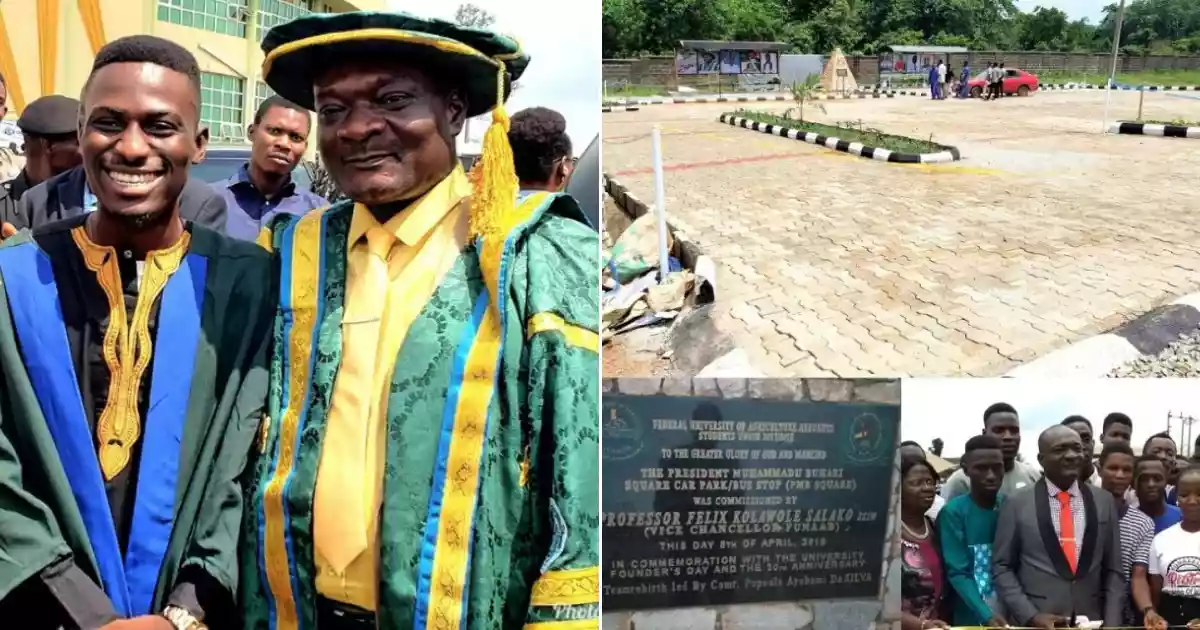 The PMB Square and the commissioning of the car park Source: Naijatweet.com
He said: "This is going to be a welcome development because we have just been able to salvage one of the problems affecting the university, which is a key factor to the growth of the university. What we have just done is, one of its kind which is a landmark in the history of students' unionism and we have not had any regret for embarking on this project."
Going forward, the vice chancellor Kolawole Salako appreciated the students and the executives of the union for their act of goodwill. He also tagged the project as one that will definitely help students get vehicles to and fro lectures on a regular basis.
His words were: "It is going to be a lot of relieve for commercial vehicles plying from Gate to the Campus and definitely people are going to have a space to sit while waiting for vehicles, the commercial vehicles will also be relieved having a conducive environment to really do their work," he said. "This project will go a long way in term of community relationships."
In explaining why he decided to name the park after Buhair, the student union leader had this to say: "Our decision was based on the fact that we appreciate the efforts of Federal Government led by President Buhari on the anti corruption crusade, economy and security nationwide as well as the dualization of Camp-Alabata road leading to main campus. Such an impeccable individual like President Buhari deserve to be honoured by FUNAAB Student Union."
He went on to challenge the Nigerian government to improve attention given to the university with additional funding towards addressing food insecurity and other technological ideas even as he prided himself in being the first to honour President Buhari on the FUNAAB campus.
Recently, a FUNAAB lecturer came under fire after he set an exam question based on a bible verse. Many were enraged that he did not take into consideration the interests of people who adhere to the doctrines of other religions